Knobstone Trail in Indiana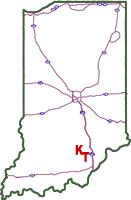 The rugged terrain of this 58 mile backcountry hiking trail is often compared to the Appalachian Trail (AT), and many people use it to train for the AT. The Indiana Department of Natural Resources manages the Knobstone Trail (KT) in Clark, Scott, and Washington counties in southern Indiana. It is Indiana's longest footpath, passing through Clark State Forest, Elk Creek Public Fishing Area, and Jackson-Washington State Forest. These state resource properties contain nearly 40,000 acres of rugged, forested land. The trail presently extends from near Deam Lake, just north of SR 60 in Clark County, to Delaney Park, just east of SR 135 in Washington County.

clickable image map of Knobstone Trail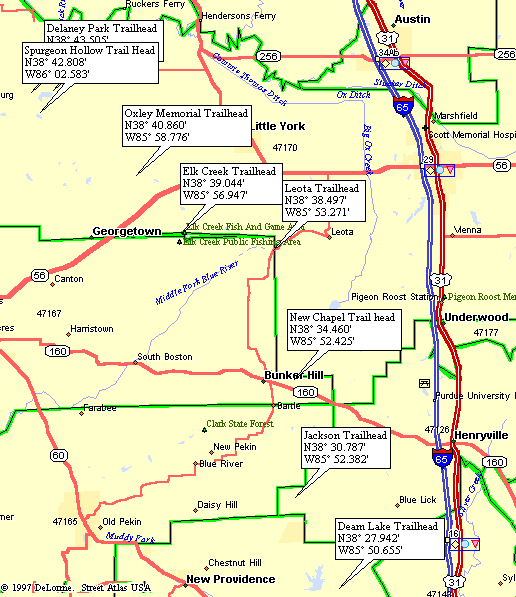 Map of Northern Section of Knobstone Trail (11 MB PDF file)
Map of Southern Section of Knobstone Trail (10 MB PDF file)
Caution
Because the trail follows the Knobstone Escarpment, there are many steep climbs and descents. It can be regarded as a rugged, difficult trail to hike. It is managed and maintained at backcountry standards, and structures are limited to primitive steps and waterbars. Maintenance responsibilities fall to a two-person field crew, occasionally assisted by volunteers.
The trail crosses several roads, varying from state highways to gravel country lanes. Use caution when crossing these roads.
Trailheads
Seven trailheads have been developed along the trail, providing parking areas and direct access to the Knobstone Trail. The Delaney Park Trailhead is located within Delaney Park, a Washington County Park that includes facilities for camping, cabins, showers, and a gated entrance. The Elk Creek Trailhead is located at a public access site on Elk Creek Lake. The parking area for the lake and trail is paved. All of the other trailheads include a small gravel parking area.
Following the Trail
The Knobstone Trail map shows the general route of the trail and the topography of the area. Minor reroutes have been constructed over the past few years to avoid some problem areas, and they are not indicated on the map. On the ground, the trail is marked by 2-inch by 6-inch white blazes painted near eye level on trees. Two blazes on a tree indicate the trail changes direction at an intersection with another trail or forest road. Attempts are made to mark the trail so that it is easy to follow. Trees which fall on the trail because of natural events can make it more challenging. Therefore, it is important to utilize both the map and the blazes while hiking the trail.
While using the trail, please be sure to stay on public property. In some areas, the trail follows a very narrow corridor of public property. The KT map shows the public property boundaries. Hikers are responsible for helping maintain good relations between hikers and private property owners.
The trail map is available from DNR Map Sales (317-232-4180). They are usually available at Clark State Forest's office (812-294-4306) in Henryville, Jackson-Washington State Forest's office (812-358-2160) near Brownstown, the Deam Lake State Recreation Area's (812-246-5421) office near Borden, and the Delaney Park gatehouse (812-883-5101). The maps are available from the properties only during office hours.
Trail Terrain
The trail traverses land with extreme relief distinguished by narrow, relatively flat-topped ridges typical of the Knobstone Escarpment-a knobby slope between the Norman Upland and Scottsburg Lowland, two of southern Indiana's natural land regions. The Knobstone Escarpment is one of Indiana's most scenic areas, rising more than 300 feet above low-lying farmland in some areas as it snakes northward from near the Ohio River to just south of Martinsville. A central upland, mixed hardwood forest (oak-hickory and beech-maple associations) dominates much of the escarpment. "Knobstone" shale, which is actually a combination of weathered brown shale, sandstone, and siltstone, is common in the area and gives the escarpment its name.
Allowed Uses
The Knobstone Trail is developed and managed for foot traffic only. Because of erosion, damage to structures, and the safety of hikers, horses, bicycles, and motorized vehicles are not allowed on the trail.
Camping Along the Trail
Primitive, backpack camping is allowed along the trail only on public lands (marked on the map) at least one mile, by trail, away from all roads, recreation areas, and trailheads, and out of site from the trail and all lakes. There are no designated campsites. Although it is not required, overnight trail users should consider registering at one of the nearby property offices: Jackson-Washington State Forest (812-358-2160) office is located about 3 miles southeast of Brownstown, north of SR 250. Starve Hollow State Recreation Area (812-358-3464) office is located east of SR 135 approximately 6 miles south of Brownstown and 17 miles north of Salem. Clark State Forest (812-294-4306) office is located west of US 31, 10 miles south of Scottsburg and 1 mile north of Henryville. Deam Lake State Recreation Area (812-246-5421) gatehouse is located north of SR 60, adjacent to Clark State Forest, 1 1/4 mile west of Deam Lake Trailhead. Delaney Park (812-883-5101) gatehouse is located 9 miles north of Salem and 2 miles east of SR 135.
Campgrounds are located at Delaney Park (812-883-5101), Clark State Forest (812-294-4306), and Deam Lake State Recreation Area (812-246-5421).
Deam Lake SRA
1217 Deam Lake Rd
Borden, IN 47106
Online camping reservations available
Disposing of Wastes
Everything carried in on the trail is to be carried out. Organic wastes are to be buried in a 4 to 8-inch hole, at least 200 feet from the trail, water, and dry gullies. Either carry out toilet paper in a plastic bag or bury it deeply so it is not dug up or left in the open. Please respect these regulations, or camping may be prohibited in many areas.
Protect The Water Supply
Always wash your dishes or yourself a few feet away from the edge of a lake or stream. This way the soil acts as a filter, preventing soap suds and scraps of food from polluting the water. After washing your dishes, rinse them a safe distance from the bank. A few feet can make a big difference. Sources of water in many areas are often limited and can fail during dry periods-plan ahead! Remember to treat your drinking and cooking water by boiling for several minutes or with a commercial water filter.
Drinking Water
During much of the year, water is unavailable from most of the streams near the trail. Hikers need to provide their own water supply. To avoid carrying an entire trips' supply of water, water containers can be cached at trailheads or access roads. Be aware that there are outfitters to help with this. If water is used from streams, ponds, or lakes, be sure to treat it properly by filtering or boiling.
Use of Fires
To reduce the possibility of a forest fire, use a portable backpack stove rather than a campfire for cooking. A portable stove cooks your meal long before a fire is ready. It also helps prevent fire-blackened rocks in areas where people camp.
Campfires are allowed except when forest fire conditions are high. Extreme caution should be taken at all times: scrape the area down to bare soil, keep the fire contained in the bare soil area; completely extinguish it; and return the site to its original condition. Use only dead and down wood, and do not stockpile wood. While this was once considered a friendly gesture in remote areas, today it is one more thing which reduces the spirit of solitude and independence which people seek.
Any campfire in a backcountry area should be in a pit 12 inches or less in diameter, and a three-foot diameter area should be cleared to mineral soil around the fire. Prior to leaving an area where a campfire was built, mix ashes with the soil, fill the pit, and cover the cleared area with the humus layer which was originally removed.
Other Trail Tips
Wearing bright colors during hunting season, particularly deer season, is a good idea. In fact, it may prevent injury or death. However, during other times of the year, bright reds, oranges and yellows serve to actually "shrink" the outdoors by visually intruding into the wide spaces and solitude which are part of the outdoor experience. When drab colors (browns, blues, and greens) are used for clothing and tents, individuals are visible at less distance, and more people can use the same general area without knowing of each other's presence.
Most of us love "man's best friend," but even on a leash a pet's presence may disturb the outdoor experience. Native wildlife often shies away from areas which dogs use, thus preventing the close observation many hikers desire. Barking also often disturbs other hikers, and sanitation within camping zones can become a problem. Therefore, it is recommended that pets not accompany hikers on the Knobstone Trail.
Before starting out, study maps of the area and learn the terrain. Be sure you are familiar with all the options of time, alternate routes, and weather. Do not forget the shorter daylight hours during late fall and winter. Be sure to travel with a first aid kit, map and compass, and know how to use them.
State Forests
The Knobstone Trail passes primarily through state forests, which are managed for "multiple use" to obtain maximum benefits from recreation, timber, and wildlife production and watershed protection. They are open to the public for hunting during season, and are actively managed to increase the fish and wildlife population. Trails are developed, along with other recreational projects, to be compatible with the growth and harvest of timber and to retain the watershed protection that forests naturally provide. The harvesting of timber provides valuable income for the state of Indiana. Timber management and harvesting also provide diverse cover and food necessary for the perpetuation of many game and non-game animal species and helps insure that our forest resources will be available for future generations.
Trail Extension
There is work underway to extend the Knobstone Trail, developing northward to connect with Hoosier National Forest, Yellowwood State Forest, and Morgan-Monroe State Forest. Built with the help of the Hoosier Hikers Council, the 42 mile Tecumseh Trail is meant to be the northern section of the Knobstone Trail. Work is currently being done on the middle section that will connect up to create a 140 mile long Knobstone Trail.