Elk Creek Trailhead to Leota Trailhead
on the Knobstone Trail in Indiana
(7 miles)




Description of Knobstone Trail from Elk Creek Trailhead to Leota Trailhead (supplied by Indiana DNR)
The trail leads from the southeast end of the Elk Creek Trailhead parking lot and meanders around the south shore of the lake. It then rises about 170 feet to a ridge top, providing the hiker a view of the lake and surrounding valley. The trail then drops back to the lake level and continues eastward out of the state fish and wildlife area toward Clark State Forest. This section of the trail provides the hiker with a variety of ridgetops and bottomlands. The trail also passes through some large clearings created by logging operations. These clearings provide excellent wildlife habitat-deer, grouse and other species may be observed here. The trail rises to an elevation of 1,000 feet as it reaches the Leota Trailhead. The trail is approximately 7 miles in length between the Elk Creek and Leota Trailheads.
The Elk Creek Trailhead is really nice. Here is a pic of the parking lot...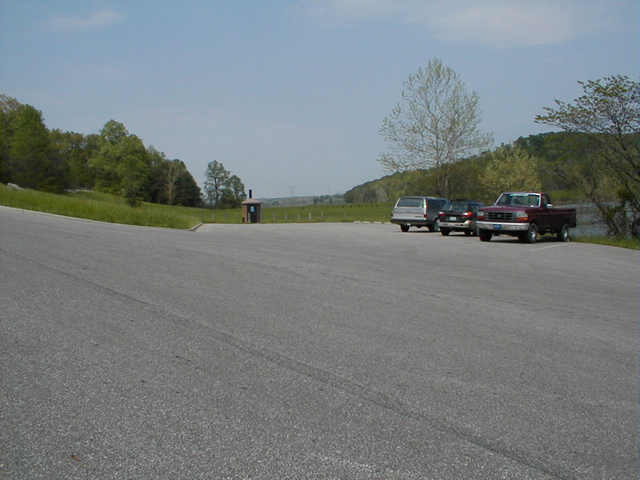 Directions to Elk Creek and Leota Trailheads (supplied by Indiana DNR)
The Elk Creek Trailhead is located at Elk Creek Public Fishing Area, 1.5 miles south of S.R. 56 and about 10 miles east of Salem. To drive from the Elk Creek Trailhead to the Leota Trailhead, turn right (east) from the Elk Creek entrance road onto the road it intersects. Continue for 1.8 miles to SR, 56. Turn right (east) onto SR 56 and proceed for 3.9 miles to an unmarked county road-watch for the Stucker Fork Water Tower, northwest of the intersection. Turn right (south) on this road and continue 1.1 miles to an intersection. Turn right (west) staying on the road for 1.2 miles to a T intersection with Leota Road. Turn right (west) on Leota Road and proceed for 1.3 miles, then turn right (north) on the gravel road which curves off to the right at the top of the knob-watch for "KT" post.
Leota is can be a bit tricky to get to from Elk Creek. Consult the maps.
Here is a pic of the nearest house to the trailhead - burn it into your mind.