New Chapel Trailhead to Jackson Road Trailhead
on The Knobstone Trail in Indiana
(12 miles)


Description of Knobstone Trail from New Chapel Trailhead to Jackson Road Trailhead (supplied by Indiana DNR)
From the New Chapel Trailhead the trail proceeds in an easterly direction over rolling terrain until it turns south and drops about 350 feet to SR 160. Just south of SR 160 the trail climbs a very steep slope to an overlook. The trail then gradually drops to lower elevations and crosses Pixley Knob Road. Several small intermittent streams are then crossed and the trail turns to the west and rises to another overlook. Looking south from the overlook, Louisville can be seen on a clear day. The trail then turns back to the south and winds up to the top of Round Knob, providing another view of the surrounding area. Within the mile between Round Knob and the Jackson Road Trailhead, the trail drops about 300 feet and rises back to the ridgetops. To get to the Jackson Road Trailhead from the trail, go right (west) along the paved county road for about 0.1 mile to the gravel county road to the right (north). Follow this road (Jackson Road) for 0-.3 mile to the trailhead parking lot to the left (west). This segment of trail is approximately 12 miles in length.

The turn for New Chapel Trailhead is very tricky to see. I took a picture of the small sign marking the road.
Keep your eyes peeled!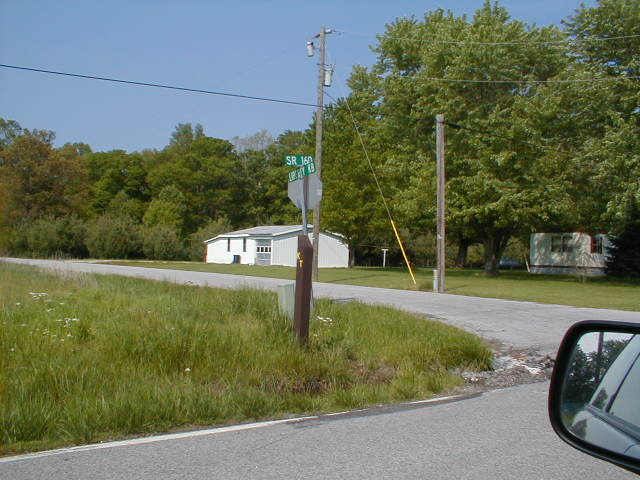 Below is a picture of the now defunct Blue Lick General Store mentioned in the description below.
This is the landmark for a crucial turn, and the road sign was gone when I was there.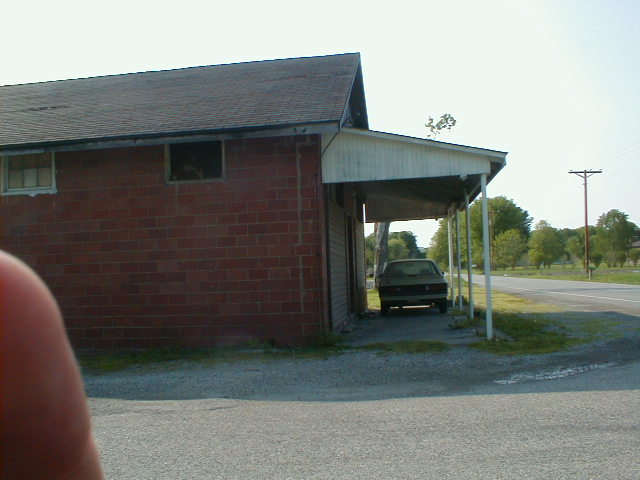 Directions to New Chapel and Jackson Road Trailheads (supplied by Indiana DNR)
The New Chapel Trailhead is located about 0.5 mile north of S.R. 160 off of Liberty Knob Road (the county road which goes north from SR 160 about 0.3 mile west of New Liberty). The trailhead is on the east side of Liberty Knob Road.
To drive from the New Chapel Trailhead to the Jackson Road Trailhead, turn left (south) from the trailhead entrance road onto the paved county road for 0.4 mile to SR 160. Turn left (east) on SR 160 for 0.5 mile to the first road to the right. Turn right (south) on Pixley Knob Road and continue for 5.6 miles to the small town of Blue Lick. Turn right (southeast) on Bartle Knob Road (the county road just past the old Blue Lick General Store, which is now closed). Continue for 4.2 miles (keep to the right at the intersection of Bartle Knob Road and Reed Road, which is a dead end) to Jackson Road (gravel road which forms a T-intersection from the right). Turn right (north) on Jackson Road-watch for the "KT" post. Continue for 0.3 mile to the trailhead parking lot, just west of Jackson Road.