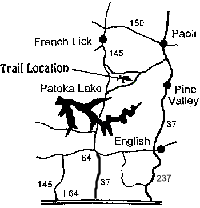 The multiple-use Springs Valley Trail offers approximately 12.7 miles for hiking, horseback riding and mountain biking. The trail circles Springs Valley Lake (Tucker Lake) and offers scenic views of the lake, as well as remnants of the Buffalo Trace.
Parking for day use is available at the trailhead. The Springs Valley Recreation Area with campground is located on the north shore of the lake. However, horses are not permitted in the campground. Picnic and restroom facilities are located near the Recreation Area and have hitching posts to allow use by all trail users.
The 140-acre Springs Valley Lake is surrounded by scenic hardwood forests. A boat ramp and picnic facilities are also available. No fees are charged for entry, parking, picnicking or use of the boat ramp.
According to a survey by Indiana DNR fisheries biologists in August of 2000 Springs Valley Lake showed good populations of bluegill, redear sunfish, largemouth bass, and channel catfish.
NOTE: Horse riders and mountain bikers are required to have a trail permit and stay on trails designated for their use. Annual ($35/year) and day-use ($5/day) permits are available from Hoosier National Forest offices and several local vendors.
NOTE: According to Indiana DNR visitors to this area should be aware of a vandalism problem in this area and people are asked to report any suspicious activity or damage.
This trail operated by:
US Forest Service
Tell City Ranger District
248 15th Street
Tell City, IN 47586
Phone: 812-547-7051
Hoosier National Forest website