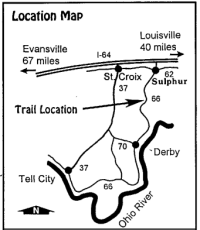 Oriole East offers an approximately 8.8-10 mile long multiple-use trail. Enjoy hiking, horse riding or mountain biking through scenic hardwood forests.
Horse riders and mountain bikers are required to have a trail permit and stay on trails designated for their use. Annual ($35/year) and day-use ($5/day) permits are available from Hoosier National Forest offices and several local vendors.
Nearby Oriole West offers another approximately 7.2 mile long multiple-use loop trail.
This trail is operated by:
US Forest Service
Tell City Ranger District
248 15th Street
Tell City, IN 47586
Phone: 812-547-7051
Hoosier National Forest website
Oriole East Mountain Biking Trail Info

Directions:

From I-64 (approx. 40 miles west of Louisville), take SR 66 South, through Sulphur, approx. 5 miles to Jeffries Cemetery. Turn left (east) at the Hoosier National Forest sign to the parking area.

(Check out the maps above too.)

Length:
Approx. 8.8-10 miles
Trail Type:
Single track & fire roads
Skill Level:
Intermediate
Trail Description:

The trail runs through hardwood forest and is moderate, with a few tough climbs. Riding the main trail counterclockwise and including the 3 mile loop on the east end is recommended.
YIELDING THE RIGHT OF WAY

Since you may be sharing the trails with different types of users, please observe the following trail courtesy:

-

Mountain bikers yield to horse riders and hikers. (Make your approach known well in advance.)

-

Hikers yield to horse riders.

-

Horse riders: control your horse.
---