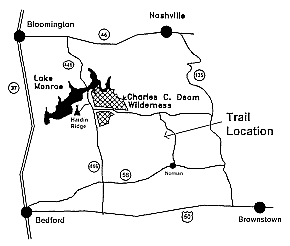 Hickory Ridge offers 46.7 miles of a variety of intertwining long and short loop trails through scenic hardwoods. The trails are designated multiple-use, allowing hiking, biking and horseback riding.
Trail signs at intersections make navigating the system easier. In addition, at some intersections, signs showing the entire system with "you are here" markers assist trail users in orienting themselves.
Small ponds are scattered throughout the Hickory Ridge system. Many are stocked with fish and can be used for watering horses.
Horse riders and mountain bikers are required to have a trail permit and stay on trails designated for their use. Annual ($35/year) and day-use ($5/day) permits are available from Hoosier National Forest offices and several local vendors.
This trail is operated by:
US Forest Service
Brownstown Ranger District
811 Constitution Avenue
Bedford, IN 47421
Phone: 812-275-5987
Hoosier National Forest website