Hardin Ridge Trail
(in the northern section of Hoosier National Forest in Indiana)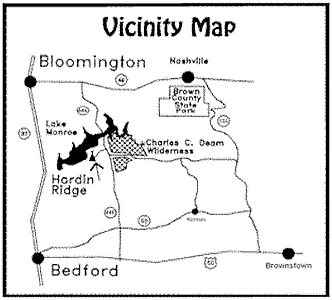 This 2 mile hiking and biking trail (in Hardin Ridge Recreation Area) leads from the day use area to the various campground loops, and it includes a scenic overlook. This is the only trail in Hoosier National Forest where bicyclists can ride without a trail permit.
The Hardin Ridge Trail roughly follows the main campground road and provides a safe surface for families to hike or bike. However, when bicycling down to the day use area, use extreme caution on the steep incline.
This trail also connects with the Ted T. Turtle Interpretive Trail.
This trail is operated by:
US Forest Service
Brownstown Ranger District
811 Constitution Avenue
Bedford, IN 47421
Phone: 812-275-5987
Hoosier National Forest website
DAY USE FEES
All visitors to Hardin Ridge Recreation Area must purchase a daily parking permit during the recreation season (4/15 to 10/15). Whenever the gatehouse is not staffed please use the self-pay envelopes and drop box. The permit is $5 for vehicles. Annual car permits are $35. Campground occupants are exempt from the requirement for a daily parking permit. (Day use fees are half-price from 10/16 to 3/31.)
PAY CAMPSITES
Hardin Ridge Recreation Area contains six campground loops that offer 37 walk-in sites and 163 tent/trailer sites. Camping fees (4/15 to 10/15) are $17 for non-electric sites, and $23 for electric sites. Double size sites are $36. Extra vehicles are $5 each. Campers are exempt from the requirement for a daily parking permit but must display their camping permits in their front window when they pass the gatehouse. Firewood is available for $5/bundle.
CABINS
Hardin Ridge Recreation has 2 cabins (available 4/15 to 10/15) for $50/night.
PICNIC SITES AND SHELTER HOUSES
Hardin Ridge Recreation Area has 40 picnic areas and 2 shelter houses overlooking the lake. Picnic shelter houses may be reserved year round for a cost of $25, or are otherwise available on a first come basis. There is ample space in fields around the picnic sites for games.
BOATING AND FISHING
The 3-lane launch ramp on Monroe Reservoir is open year-round with a 75 vehicle/trailer parking area. A fully accessible loading dock is also provided at the boat ramp. Fishing is allowed anywhere along the lakeshore within the recreational complex.
BEACH
A 300-foot swimming beach and bathhouse are open Memorial Day through Labor Day. The beach offers a combination of sand and sun, or a shady grass-covered hillside. There are no lifeguards and no glass containers or pets are allowed.