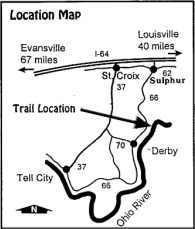 Buzzard Roost Trail is an 0.8 mile hiking trail that begins on the bluff overlooking the Ohio River and descends to the river adjacent a creek. There are several sandstone rock outcrops, and the trail winds past bluffs, hardwood forests, waterfalls, and views of the Ohio River and Kentucky. There are some rocky, steep sections, but this is one of the most scenic trails in Hoosier National Forest. Benches are located on the bluffs overlooking the Ohio River and on the bluff where the trail meets the river. The trail is marked with white diamonds.
An overlook area provides a beautiful view of the Ohio River. A primitive camping/picnic area with tables and grills is available.
This trail is operated by:
US Forest Service
Tell City Ranger District
248 15th Street
Tell City, IN 47586
Phone: 812-547-7051
Hoosier National Forest website
ETIQUETTE AND RULES
Horse, mountain bike, or motorized travel is not permitted on this trail.
Pack out your trash.
FACILITIES AND CAMPING
No water or restroom facilities are available. Parking is available in two parking areas along the entrance road and at the first trail access. A primitive camping/picnic area with tables and grills is provided. Parking is also available in the camping/picnic loop.
---
---