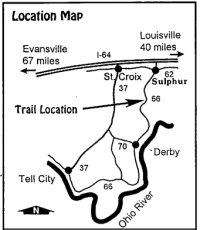 Oriole West offers an approximately 7.2 mile long multiple-use loop trail. Enjoy hiking, horse riding or mountain biking through scenic hardwood forests.
Horse riders and mountain bikers are required to have a trail permit and stay on trails designated for their use. Annual ($35/year) and day-use ($5/day) permits are available from Hoosier National Forest offices and several local vendors.
Nearby Oriole East offers anothers another approximately 8.8-10 miles of multiple-use trails.
This trail is operated by:
US Forest Service
Tell City Ranger District
248 15th Street
Tell City, IN 47586
Phone: 812-547-7051
Hoosier National Forest website
Oriole West Mountain Biking Trail Info

Directions:

From I-64 (approx. 40 miles west of Louisville), take SR 66 South, through Sulphur, approx. 5 miles and turn right (west) onto CR 52. Continue west approx. 1 mile to the trailhead and parking area.

(Check out the interactive map above.)

Length:
Approx. 7.2 miles
Trail Type:
Single track & fire roads
Skill Level:
Intermediate
Trail Description:

The trail runs through hardwood forest and is moderate, with some technical sections. Attention is required on descents and climbs. Go counter-clockwise for a fast, "whoop-filled" descent that leads into a technical single-track. The trail includes a scenic creek bottom section and some wide, gravel-covered stretches.
YIELDING THE RIGHT OF WAY

Since you may be sharing the trails with different types of users, please observe the following trail courtesy:

-

Mountain bikers yield to horse riders and hikers. (Make your approach known well in advance.)

-

Hikers yield to horse riders.

-

Horse riders: control your horse.
---