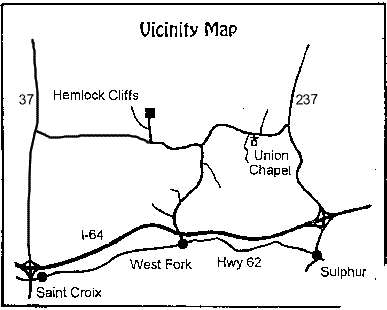 A 1.2 mile hiking trail leads you down into the canyon under a lush canopy of large trees, through rock shelters and past high seasonal waterfalls. Parts of the trail are steep and slippery when wet, so use caution. It could take two leisurely hours to complete the loop.
Lush vegetation is found along the cliffs, waterfalls and canyon floor. Hemlock, a tall evergreen with short needles and small cones, thrives in the canyon's cool climate. Wintergreen, a protected plant, is also found here. While common in northern forests, this is only one of three populations of wintergreen left in Indiana. Wild geranium, French's shooting star, mountain laurel, and liverwort are some of the other plants found here.
This trail operated by:
US Forest Service
Tell City Ranger District
248 15th Street
Tell City, IN 47586
Phone: 812-547-7051
Hoosier National Forest website
SCENIC HISTORY
Hemlock Cliffs is a valley of special beauty in southern Indiana. A cool climate, created by the box canyon shape, sandstone rock formations, and seasonal waterfalls is responsible for the unique trees and plants that grow here.
Purchased in 1963 by the USDA Forest Service, Hemlock Cliffs has been a popular destination for people seeking tranquility, and a chance for reflection from within a cool rock shelter or along the shady stream.
GEOLOGY
The area features sandstone rock outcrops, overhangs, cliffs, rock shelters, and ravines. The rock you see is sandstone of the Tar Spring Formation. Much of the sandstone is "honeycombed" by weathering of iron ores. Springs, small caves and subterranean drainage conduits are in the underlying Glen Dean Limestone.
EARLY INHABITANTS
Archaeological excavations indicate Native American occupation as early as 10,000 years ago. The head of the canyon is a large, semi-circular rock shelter, which undoubtedly provided cover and defense to the early occupants of this area.
PRESERVING THE AREA

-

Stay on the trail.

-

Be aware that voices are amplified in the canyon. Minimize loud calling.

-

Pack out your trash.

-

Report resource damage to the Forest Service.
RESTRICTIONS

-

Motorized vehicles are prohibited, except on designated roadways.

-

Foot traffic is restricted from some areas for resource protection.

-

Camping and campfires are prohibited in rock shelters.

-

Rapelling is prohibited in designated areas for resource protection. (See the detailed map of Hemlock Cliffs Trail.)
Violations are punishable by a fine of not more than 5,000 bucks and/or imprisonment for not more than 6 months.
---
---